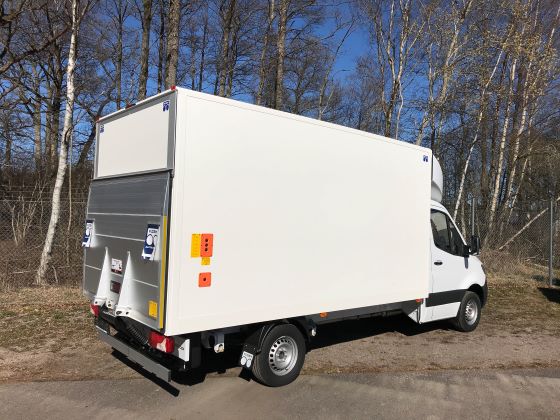 Basic design
The Floby box body is available for most chassis models and is designed to be light and strong with a rust cover adapted to the Nordic climate.

The box body comes in several equipment options such as side door, side streamers and various types of lashing rings and lashing tracks etc.
Light, strong and anti-corrosive
The base of the box body is made of hot-dip galvanized high-strenght steel for maximum load capacity and strength.
The box bodies aluminium profiles have a unique design with white lacquered that contributes to increased load capacity and reduced air resistance.
Top mounted rear hatch over lifting platform with aluminium profiles in natural anodised design.
The impact-resistant wall material of reinforced thermoplastics is glued in the aluminium profiles, which gives the box body maximum strength and tightness against water penetration.

The wall material is well suited for foiling with company profiling.

By selecting material of hot dip galvanized steel profiles and white lacquered aluminum profiles the box body is adapted to rust protection for the Nordic winter climate with salted roads.
Safety
The slightly curved roof structure gives a better surface water runoff and prevents icing during winter. The curved roof also provides reduced air resistance.
Installing 200 mm high protection plates on wall sides minimizes damage to the box body when handling goods.
Installing lashing tracks 900 mm from floor on the side walls provides safe goods handling.
Integrated brake- and with indication lights in roof profile adds to traffic safety.