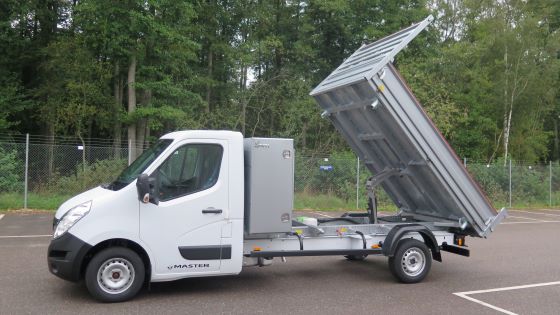 Basic design
JPM flatbed with tip is available in two designs, either as a single rear tip or as a three-way tip.
12 V electric hydraulic pump with 3 or 7-liter hydraulic oil tank.
JPM tipper is available for most chassis models and is designed to be light and strong with rust protection adapted for the Nordic climate.
Due to the flexibility of the design there is a number of options in equipment for example: toolboxes between cabin and tipper, grating gates, ladder racks , and towing etc.
Light, strong and anti-corrosive
The tipper is made of aluminum profiles, powder coated for maximum rust protection, load capacity and strength. Maximum tilt angle 48 °.
The sideboards are equipped with protective strips on the top and the hinges are equipped with rubber stoppers on the sideboards and rear door. The lower edge of the hinges is designed, in the closed position, to better keep fine-grained goods.
Safety
The tipper has a ladder holder of aluminum profiles as a standard to protect drivers and passengers.
Recessed lashing rings as standard.
The compact compass cylinder is equipped with a safety valve and does not take space in the chassis.
Safety switch and safety support for reverse tilt installed on the auxiliary frame.
Cordless remote control with up- and down function installed in the cabin.
User- and service friendly
Rear post with conical attachment prevents gap during use.

Spreader hinge at the rear with an automatic opening at a 15 ° tilt angle.

Spherical roller bearings installed with adjusted locking pins to avoid fault when operating the tipper.
Environment